MODEL OVERVIEW
Nissan Patrol 2020 looks even bolder with a refreshing new look that reflects the power to traverse tough terrains. The new model has gone through impressive changes including a well needed facelift. Improved safety features, polished interior and powerful are just some of the new additions.
Engine: V6 and V8
Fuel Type: Patrol
Number of Colours: 7
Number of Variants: 8
Seating Capacity: 8 passengers
Starting Price: AED 199,900
Dimensions: L-5315 mm, W-1995 mm
Weight: 3400-3500 kg
NISSAN PATROL 2020 VARIANTS
The model variation and price is based on the engine type and safety features. The following is the list of starting prices from each variant of Nissan Patrol in the UAE.
V-6 Engine
XE – AED 199,900
SE T2 – AED 222,100
SE Titanium – AED 240,200
SE Platinum – AED 265,200
V-8 Engine
LE T1– AED 234,000
LE T2 – AED 275,000
LE Titanium – AED 299,000
LE Platinum – AED 329,000
With eight different options, some accessories and features are exclusive to certain variants of Nissan Patrol 2020.
Front Fog Lights – not available in XE and LE T1
Front Seat Climate Control – Exclusive to SE Platinum | LE Titanium & Platinum
Wireless Smartphone Charger – Exclusive to SE Titanium & Platinum | LE Titanium & Platinum
Remote Engine Starter – not available in XE
Rear Seat Display – not available in XE | SE T2 | LE T1
Off-Road Monitor Function – exclusive to LE and SE Platinum
Moreover, the expensive Titanium and Platinum variants get to enjoy some additional safety features like forward collision warning, blind spot detection, lane departure tech, high beam assist and rear cross traffic alert.
EXTERIOR
Compared to previous models, Nissan Patrol 2020 noticeably stands out. The car has gone through a major facelift, which is a defining moment considering the last facelift was back in 2014.
The sophisticated front is boosted by a bold bumper and LED signature headlights, removing the overall bulging appearance and making the powerhouse easy to distinguish. The rear is also redesigned to give a wider look with neater tail lights. The sunroof is aerodynamically designed to not only improve the overall outlook but also reduce wind resistance.
With sequential indicators and premium cut alloy wheels, Nissan Patrol has certainly started a new chapter in its legacy.
INTERIOR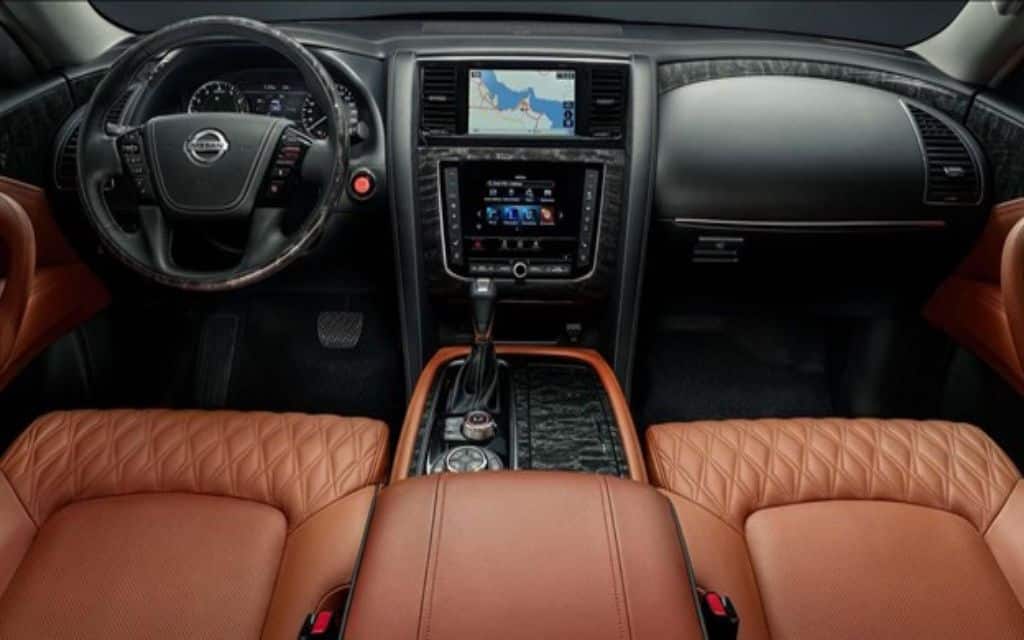 Since Nissan Patrol 2020 is almost 2 metres wide and over 5 metres long, the interior is all about space, comfort and style. Seats are covered with beautiful leather with a touch of wood veneer. To personalise your cabin, you have quite a selection when it comes to the colour and pattern of leather.
Like the previous models, the 8-seater features a spacious cabin, equipped with the latest tech. Seats are spaced out across three rows (2-front|3-middle|3-rear), ideal for big families with children.
The built-in cooler has made a comeback allowing rear passengers to easily access the storage box. The doors are designed to reduce external noise in addition to the attached base speaker and a standard door latch. The transmission unit is incorporated with a control dial to allow everything within the fingertips of the driver.
STORAGE
Keeping the purpose of the vehicle in mind, the rare storage comes with a flexible cargo net to keep your luggage in place while on the off-road. If you want everything to be organised, make use of its net divider to hold small accessories and equipment.
You can also opt to fold down the third-row seats to make room for luggage. Many prefer to simply remove the seats to add more space for storage.
PERFORMANCE
With around eight variations, Nissan Patrol doesn't make it easy to choose the right grade. Let us first focus on the core engine specs as the series comes in V6 and V8 engine.
Apart from engines, mechanical specs are mostly similar. However, it lacks diesel alternatives.
It is evident that V8 boosts more power as compared to a 6 cylinder V6 engine. For instance, the V8 Nissan Patrol can go from 0 to 100 km/h in around 6.5-7 seconds. Of course, V6 will have a bit reduced performance but won't lack much behind.
The gear unit is nicely combined to give better off-road control. Just with a dial, you can easily select gear configuration for 4 wheel drive between automatic, high range (4H) and low range (4L).
FUEL EFFICIENCY
Standard testing claims an average fuel consumption of 14.4 litres per 100 kilometres. However, considering non-ideal conditions like city traffic, the average will always surpass the standard range by 17-20 litres per 100 kilometres.
That said, Nissan Patrol is a popular choice for off-roading in the UAE. With a fuel capacity of 140 litres, you can expect a hassle-free drive of up to 700 to 900 km in the desert. With multiple gear configurations, it is a lot easier to manoeuvre the car along off-road trails and sandy dunes.
SAFETY FEATURES
Safety is something not taken lightly by the likes of Nissan Patrol 2020. Many of the features make a return from its older model, including its airbag system, driver assist panel and tyre pressure monitoring system.
With its front, side and curtain airbag, all the passengers are protected from serious injuries. Driver assist panel boasts a 7-inch colour screen to show usual sensor operations like blind spot detection, lane departure assistance and proximity alert. The tire pressure monitor ensures early action on flat tires to avoid uncertainties.
Some updated features include:
Electronic Braking Force Distribution (EBD)
Brake Assist (BA)
Vehicle Dynamic Control (VDC)
Traction Control System (TCS)
TECH & CONNECTIVITY
Nissan Patrol comes equipped with a state-of-the-art infotainment system. The two-screen platform presents a better view of map display along with simultaneous control of entertainment options. You can easily manage most options through its integrated panel around the vehicle's gear system.
The navigation system has voice recognition features so drivers can focus attention on the road. However, you may still need some practice to get the hang of it.
The infotainment system offers map navigation along with entertainment options for families.
Passengers will have a pleasant journey as Patrol's rear entertainment comes with dual screen and wireless headphone. That is a great way to keep children occupied on long journeys while you enjoy your favourite tracks.
With features like Apple Carplay and Android Auto, the system can integrate well with your cell phones. You can use mobile apps or maps to further customise your journey.
Let's not leave out its sound system, as it is one of the best aspects of the Patrol's infotainment. With around 13 speakers, every passenger enjoys a quality surround sound experience.
OUR VERDICT
Nissan Patrol is a family car, and its features reflect practicality and performance both on and off the road. Innovative safety features provide additional comfort when it comes to safe driving. The 2020 model is possibly the sought after model as it received the well-deserved facelift after 6 years.
Nissan Patrol has built a reputation for its reliability on the streets and resilience in the deserts of the UAE. In contrast to other off-roaders, better fuel economy is another reason for its popularity.Overall, this vehicle certainly justifies the hype.
FAQs ABOUT NISSAN PATROL 2020
How much Nissan Patrol 2020 cost?
Considering different variants of Nissan Patrol 2020, the cheapest model XE cost around AED 199,900.
Why is Nissan Patrol popular in the UAE?
Nissan Patrol is primarily made for off-roading, and the UAE is a popular destination for such an experience. As a 4-wheel drive, it performs well along the challenging off-road trails. Another reason is its low maintenance. Access to genuine and local spare parts allows anyone to maintain or replace the damaged parts easily.
How much is cargo space in Nissan Patrol 2020?
With foldable seats in the third row and adequate space in the rear trunk, Nissan Patrol offers exceptional cargo space. If you still need more space, a common practice is to remove the third seat row altogether and install storage compartments.
The cargo space with the third-row seats sits around 468 litres. If you remove third and second seat rows, you can get the storage space of upto 1400 to 2600 litres approximately.
How many km/l does a Nissan Patrol do?
In ideal conditions, Nissan Patrol 2020 has a standard fuel consumption of 14.4 litres per 100 km. However, due to traffic and other factors, the expected range will be around 17 to 20 litres per 100 kilometres. On average you will get an estimated mileage of 6.95 km/l to 5 km/l based on road conditions.
What is the warranty period of Nissan Patrol 2020?
For any new Nissan vehicle in UAE, the warranty period is 5 years or 300,000 km (whichever comes first). Vehicles go under pre delivery inspection to ensure the right conditions. Apart from free services and replacement of genuine components, some parts like tires and batteries are covered by their own warranty.
OTHER SUVS TO CONSIDER
Land Cruiser 2020 – It is a sturdy car designed for off-roading enthusiasts with a starting price of AED 233, 600. The 2020 model variants include GXR, GXR RB and VXR, each with different technical specifications.
Ford Explorer 2020 – It has around four variants, where three of them (XLT, Limited and Sport) are more suitable for the UAE due to their 4-wheel drive capability. The starting price is around AED 145,000 from the official dealer at Al Tayer Motors.
VW Toureg 2020 – Starting out at AED 165,900, the VW Touareg 2020 features sportier design and comes in 5 variants, Comfortline 3.0, Highline 3.0, R-Line, Trendline 2.0 and 3.0.
Range Rover 2020 – This is a premium luxury SUV that comes in six different variants HSE, Vogue, Westminster, Westminster Black, Vogue SE and Autobiography. With a starting price of AED 448,560, you can choose between a 6 and 8 cylinder engine.
Stay tuned to the First Cars Blog to read more car reviews in the region.