MODEL OVERVIEW
Rolls Royce Cullinan 2020 driven by royalties, is a customizable SUV to pack every bit of luxury into its classy interior. Sophisticated outlook and premium feel of Rolls Royce integrated with modern safety features are something not everyone can get their hands on.
Engine: 6.75L V-12
Fuel Type: Petrol
Number of Colors: customizable
Number of Variants: 2
Seating Capacity: 4-5 passengers
Starting Price: AED
Dimensions: L-5341 mm, W-2000 mm
Weight: 2660 kg
ROLLS ROYCE CULLINAN 2020 VARIANTS
The Rolls Royce Cullinan 2020 comes in two variants, the standard Cullinan and the exclusive Black Badge. The Black Badge variant replaces the usual chrome finishes with a touch of modern black chrome. Although both features the same engine, the Black Badge boost more power output with better drivetrain and additional luxury features.
EXTERIOR
The Rolls Royce Cullinan 2020 is a fancy SUV that might not look stylish at a first glance but is designed to look like an aggressive powerhouse. The moment you unlock the car, its feature starts to show as the Spirit of Ecstasy ornament pops out of the hood. The sturdy wide grille with a metallic finish gives the standard bold look with some rectangular openings along the bumper. The distinctive LED lights are integrated with LED turn signals, turning up the sophisticated appeal.
The side sticks to the classic with wheels depicting Rolls Royce signature. You can opt for an optional panoramic roof, which also comes in customizable versions. The rear is equipped with LED taillights and the lower bumper comes with two integrated exhausts.
INTERIOR
The interior is where the Rolls Royce Cullinan 2020 shines in terms of luxury and comfort. The accented soft leather seats offer a variety of customizing features like embedded logo, contrast stitching and a manual headrest. The door opens up far and wide and can be closed by a button near the driver side. The interior refined with wood trim and shiny knobs certainly lives up to the price tag, but the car still lacks in the area of modern tech and infotainment systems.
The infotainment system looks large with a 12.3 infotainment touch screen. The system is quiet user friendly and offers comfort accessibility controls like seat massage. The system is controlled by a dial in the middle incorporated with some shortcut functions. The controllable suspension level allows the SUV to go on off-road mode. The speedometer flex classic analogue style with some digital variations.
There is a good amount of internal storage considering two cup holders and wide console space with USB charging ports. Jumping on to the rear, shows you will be spending more time there, as it offers a lounge like experience.
The rear doors open backward and have an integrated umbrella on both sides. Although the sturdy doors are designed to be opened by a personal butler, owners can close it with a press of a button.
The rear seats come standard with retractable armrest and cup holders. You can opt to get a more expensive version by sacrificing the middle seat for a refrigerator, console and calf supports. The fluffy floor mat is one way to cozy up with a dual adjustable screen for a theatre experience.
STORAGE
Rolls Royce Cullinan 2020 offers decent cargo space of under 22 cubic feet with an adjustable upper shelf section. On the other hand, you might not want to use Cullinan for storage and rather outfit the carpeted trunk with accessories like retractable dual chairs.
PERFORMANCE
Variants
Engine
Horsepower
Torque
Transmission
Fuel System
Cullinan
6.75L Turbocharged V-12
571 hp
627 lb.-ft
8-speed auto
Petrol
Black Badge
600 hp
664 lb.-ft
The two variants of Rolls Royce Cullinan 2020 work on the same engine but offer higher power for the Black Badge trim. The numbers look promising when you consider a 12-cylinder engine. It claims a standard top speed of 250 km/h and can go from 0-100 km/h in around 5.2 seconds. Surprisingly, the monstrous engine is almost soundless and offers a pleasant and smooth riding experience.
FUEL EFFICIENCY
Rolls Royce Cullinan 2020 has a beastly engine, so fuel efficiency is definitely not the priority. As per company claim, the SUV consumes 22 liter per 100 km and 11 liter per 100 km on the city roads and highway, respectively. In other words, the car can run around 4.5 km per liter in the city district and can give an average of approximately 9 km per liter on the highways.
SAFETY FEATURES
Rolls Royce Cullinan 2020 gets various safety features as standard including brake assistance, anti-lock brake system (ABS), front and curtain airbags, tire pressure monitor, rain sensor windshield wipers and hill holder function.
The driver assistance package gives access to modern features like parking assistance, night vision, cruise control, forward collision warning, lane departure warning, cross traffic monitoring and alertness system. The backup camera system is aided by a panoramic view to assist maneuvering the hulk of a car.
TECH & CONNECTIVITY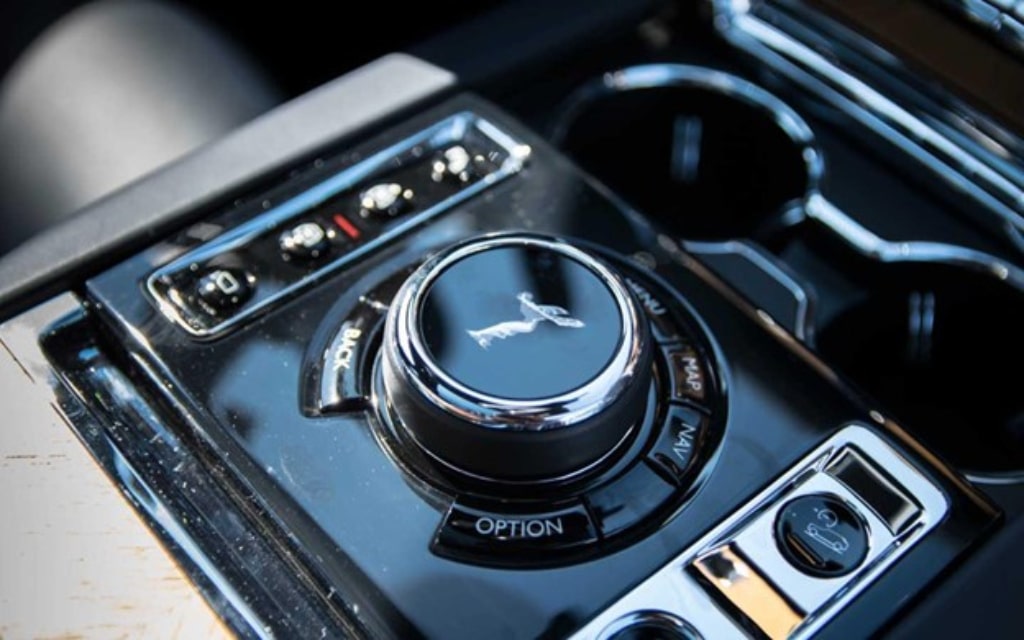 Rolls Royce Cullinan 2020 is a customizable car, so if you lack something, it can possibly be fitted for an extra cost. The basic trim offers several tech features as standard, including:
Four zone climate control
Panoramic glass roof
Headlight washer system
Adaptive LED lights
Adjustable power front seats
Heated steering wheel
Seat massager
Keyless entry and remote engine start
The infotainment system is a carryover version of BMW iDrive, which may not be the latest tech on the list. The system is controlled by a rotary knob and offers essential features like navigation, Bluetooth, satellite radio, audio and Wi-Fi hotspot. It is compatible with Apple CarPlay but lacks Android Auto.
The 18-speaker audio system ensures an elite sound experience with an optional theatre package at the rear that includes two 12-inch-high-definition screens on the back of front seats.
OUR VERDICT
Rolls Royce Cullinan 2020 has proved to be reliable but is listed among the brands, where you don't ask for the price. An epitome of imaginable luxury, the customizable SUV is designed to be driven with a personal driver.
If you want a bit sportier outlook, Black Badge will do the trick. Even with off-road functionality, the SUV is meant for smooth and comfortable ride on the road while you enjoy the rear theatre with a seat massage.
FAQS ABOUT ROLLS ROYCE CULLINAN 2020
How much Rolls Royce Cullinan 2020 cost?
Since Rolls Royce Cullinan is a highly customizable car, the price fluctuates based on added accessories and optional features. For instance, a used Rolls Royce Cullinan 2020 for sale can go for anywhere in between AED 1,490,000 to AED 2,500,000.
How much is cargo space in Rolls Royce Cullinan 2020?
The cargo space of Rolls Royce Cullinan 2020 measures around 600 liter (21 cubic foot) including the removed upper parcel shelf. Keep in mind, with the addition of optional accessories like retractable power chairs at the back, you will lose some available space. On the bright side, Cullinan is not something you will drive with a large cargo.
How many km/l does a Rolls Royce Cullinan 2020 do?
An expensive SUV like Rolls Royce Cullinan 2020 does not care much about the fuel economy. It can give approximately 4.5 km per liter in urban areas and offers an average of 9 km per liter along the highway.
Stay tuned to the First Cars Blog to read more car reviews in the region.