MODEL OVERVIEW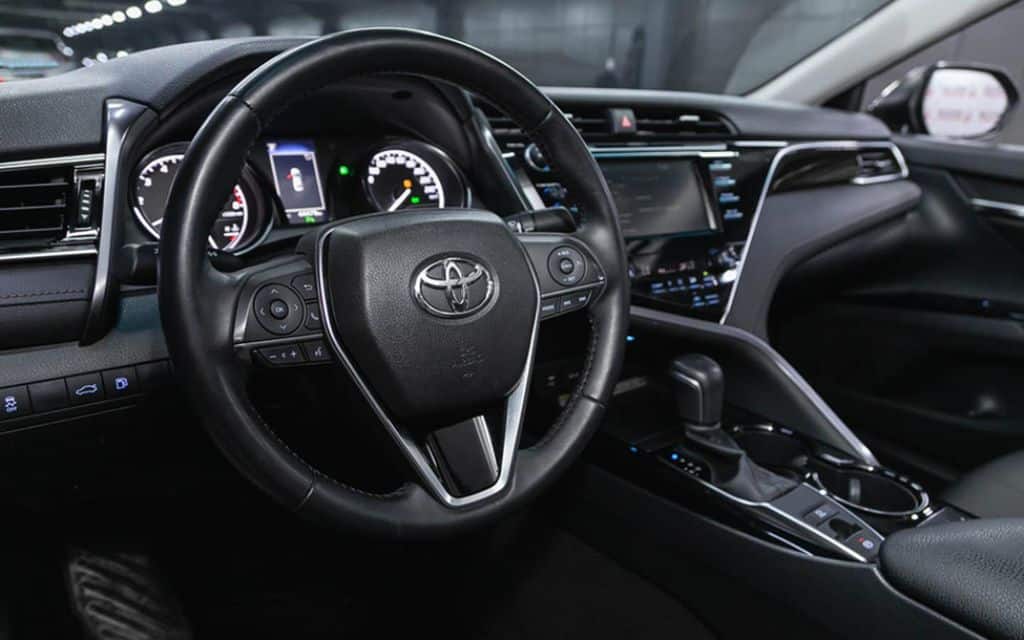 Toyota Camry 2020 is part of the 8th generation (2018) with some minor upgrades to become a reliable contender among the next gen sedans. Its multiple variants balance out the need for a fuel and power efficient car.
Engine: 2.5L 4-Cylinder and 3.5L 6-Cylinder
Fuel Type: Patrol
Number of Colors: 9
Number of Variants: 5 variants
Seating Capacity: 5 passengers
Starting Price: 91,000 AED
Dimensions: L-4885 mm, W-1840 mm
Weight: 2030 kg
TOYOTA CAMRY 2020 VARIANTS
Toyota Camry 2020 comes in 5 variants with two different engine specifications.
2.5L Engine
3.5L Engine
When comparing different variants, the base variant S lacks some luxury and tech features like push start button, dual zone climate control, curtain airbags and power back sunshade.
Apart from the regular variants, you can also opt for the hybrid variant HEV, which comes in 2.5L 4-Cylinder engine.
EXTERIOR
Toyota Camry 2020 does carry a similar design from 2019 with some minor upgrades like LED lights. The distinctive front retains a sportier look with bar like grille design whereas the sport variant looks more impressive with a griddle grille style. The bent tail light around the corner and an overall wide looking rear, sets well with its continuous aggressive tone.
The wheels come in variable sizes, for instance the base variant comes with 16-inch steel rim, SE with 17-inch alloy rim and the rest with 18-inch alloy rim. Apart from the base variant, users can enjoy added sunroof and key-less entry features. The LTD and SPORT variants come equipped with a rear spoiler for better air dynamics at high speed.
INTERIOR
The interior of Toyota Camry 2020 is neatly designed featuring exceptional dashboard material, soft touch plastic and appealing plastic wood textured trim. Two front cup holders coupled with a great console box provide significant storage space. The wireless charger with USB plug in can further retract to offer even more storage for smaller belongings.
The infotainment system is simple and feels small. It gets the job done but could do a lot better with a little resolution upgrade. The heated seat comes standard with leather. The cabin lacks smart touch options and is more practical with physical buttons. Additionally, everything is within reach at sensible locations.
For S and SE variants, around 4 different colors of fabric style are available including black, beige and two variations of grey. The sport variant introduces two sleeker color patterns including sensual red and another variation of textured grey.
The rear offers significant legroom along with enough headroom. The movable armrest comes with two more cup holders. Rear passengers have access to two USB ports to easily charge up devices. The uncomfortable hump on the floor is nicely covered by a well layered carpet.
STORAGE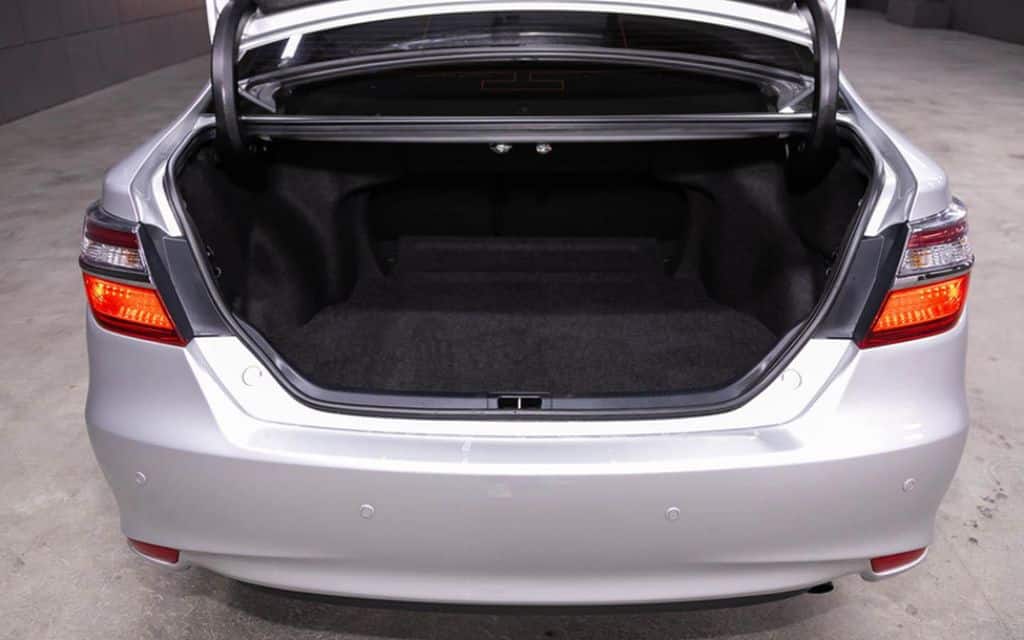 Toyota Camry 2020 has a reasonable trunk space of 15.1 cubic feet and one can fit in considerable stuff once the slit seats are folded down. The compartment underneath features a neat tool storage area with a latch to kind of hold the false floor. In any case, storing luggage or even a folded bicycle with folded seats shouldn't pose much of a problem.
PERFORMANCE
With responsive handling, Toyota Camry offers a smooth ride experience. Its base variants may lack engine power but are designed for fuel efficiency.
| | | | | | |
| --- | --- | --- | --- | --- | --- |
| Variants | Engine | Horsepower | Torque | Transmission | Fuel System |
| S / SE | 2.5L 4-Cylinder | 178 hp (202) | 23.5 kg-m | 6-Speed Auto | Patrol |
| SE+ / LTD / SPORT | 3.5L 6-Cylinder | 298 hp (301) | 36.3 kg-m | 8-Speed Auto | Patrol |
You can expect an acceleration of 0 to 100 km/h in around 8.5 to 9 seconds for the 2.5-liter engine. Whereas the powerful 3-liter engine can reach 0 to 100 km/h in roughly 7 to 7.5 seconds. Additionally, the responsive transmission shift makes up for the slow acceleration.
FUEL EFFICIENCY
Toyota Camry 2020 offers decent fuel economy considering the numbers. On a 60-litre fuel tank, the 2.5-liter engine gives an average performance of 14.5 to 15 km/liter in ideal conditions. Hence, you can expect to run from 870 km to 900 km on a full tank. The 3.5-liter engine is less fuel efficient due to increased power at approximately 14 km/ liter.
SAFETY FEATURES
Toyota Camry 2020 comes with safety feature packages like Safety Sense. It offers standard safety features like forward collision warning, automated emergency braking, lane departure warning, lane keeping assist and adaptive cruise control. Almost all variants are equipped with front and side airbags whereas the base variant excludes curtain airbags.
Some additional features include vehicle stability control (VSC), anti-lock braking system (ABS), traction control, brake assist (BA), electronic brake distribution (EBD, child restraint system, daylight running lights and tire pressure monitor system.
TECH & CONNECTIVITY
Based on the variant, Toyota Camry 2020 infotainment system comes in 7-to-8-inch audio display. The low-resolution infotainment system called En-tuned 3.0, offers a variety of features like radio, Bluetooth and satellite navigation. The current version is standardized for compatibility with both Android Auto and Apple Car-play.
Additionally, users have access to multiple USB ports both front and back, wireless charger, adjustable steering, powered seats, central locking, keyless entry and push start button. The rear camera with guidelines integrated with the console makes up for smoother reversing and parking operations. Owners of the SPORT variant can enjoy the exclusive paddle shifters for added transmission control.
OUR VERDICT
The midsize Toyota Camry 2020 adds lifeline to its sedan category. The family car is known for its reliability and easy access to aftermarket parts. With the range of variants, users have the option to either go with a budget friendly fuel efficient 2.5-liter engine, power thrusting 3.5-liter engine or the environmentally friendly hybrid version.
Although the model still lacks in the tech area, efficient safety features and tough body exterior makes the ride comfortable and safer.
FAQs ABOUT TOYOTA CAMRY 2020
How much Toyota Camry 2020 cost in the UAE?
The base variant of 2.5L Toyota Camry 2020 starts price out at AED 91,000 followed up by AED 114,000 for the 3.5L variant.
How much is cargo space in Toyota Camry 2020?
The standard cargo space of Toyota Camry 2020 for base variant is measured around 14.1 cubic feet whereas higher variants offer a trunk space of up to 15.1 cubic feet. With added split seat modification, the rear space can be increased further while sacrificing the passenger space.
Where to get Toyota Camry 2020 serviced in the UAE?
Al-Futtaim Motors is the leading official dealer for Toyota in the UAE. Getting your car services from official service centers not only offers peace of mind with access to genuine parts but offers reliable service history, this comes in handy when you want to sell your car.
Stay tuned to the First Cars Blog to read more car reviews in the region.