People have many expectations from Toyota since the auto brand is extremely popular in the UAE. Toyota has been a top preferred car for savvy buyers, thanks to the auto brands history of offering affordable transportation. Keeping up with the tradition, the Toyota Corolla 2020 has lived up to the customer expectation with powerful engines, enhanced driving performance, improved fuel economy and great interior and exterior features.
The car is offered in 5 variants in the country, some of which run on petrol while some are hybrid versions. Let's dive into the details.
Engine: 1.6-Iitre four-cylinder engine
Fuel Type: Petrol
Number of Colours: 8
Number of Variants: 5
Seating Capacity: 5
Body Type: Sedan
Starting Price: AED 71,900
Dimensions:

Wheelbase: 2,700 mm
Length: 4,630 mm
Width: 1,780 mm
Height: 1,435 mm
Weight: 1,795 kg
TOYOTA COROLLA 2020 VARIANTS
In the UAE, Toyota Corolla 2020 is offered in five variants: 1.6L XLI, 1.6L GLI, 1.8L XLI HEV, 1.8L GLI HEV and 2.0L XLI
Engine size: 1.6 L I4
Engine size: 1.8 L I4 HEV
Engine size: 2.0 L I4
EXTERIOR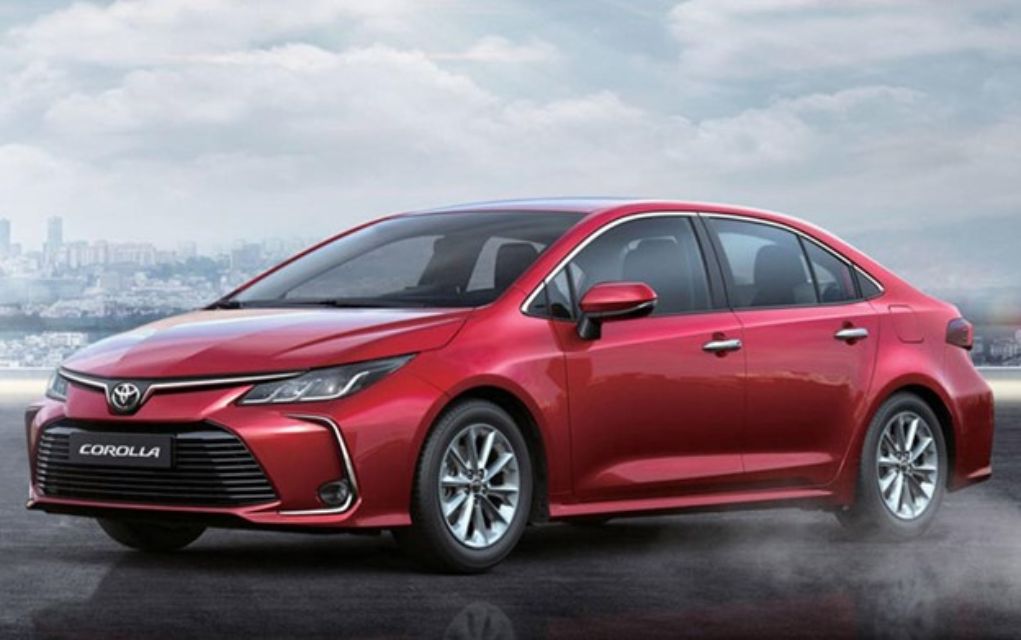 The exterior of the Toyota Corolla 2020 is extraordinary. This model has focused on its design. The base car 1.6 L GLI has sleek sides, a unique style from the front to back and it stands on 16-inch alloy wheels. The car's body is much sturdier than its predecessor.
In the front, you can see the historic Toyota emblem, the taillights and headlights of the Toyota Corolla 2020 are LED. Toyota Corolla 2020 also has fog lights in the rear. The 2020 base model has chrome door handles, a stylish side profile and a standard bumper. You can also find a single chrome exhaust line sticking out of a mock rear diffuser.
The overall design of this model has been upgraded to a sharper yet lighter body. Toyota Corolla 2020's refined body offers a calm and relaxing driving experience.
INTERIOR
Calling the 2020 Toyota Corolla's interior classy will be an understatement, it is not just stylish but it's comfortable, spacious and made of quality material. The front and back seats strike a perfect balance of being roomy and comfortable. The fabric of the car seats is gentle and supportive.
Apart from the base model that comes with manual seats, the 2020 Toyota Corolla variants come with power seats, dual-zone climate control, ambient interior lighting, synthetic leather upholstery with more adjustment range and a sleek sunroof.
The base model does not come with a sunroof. But it's still preferred by many. In the front, you will find an advanced infotainment screen and a leather steering wheel with audio, telephone and cruise control options, followed by the gear. Behind the steering wheel, there is a digital driver's display with information on time, trip distance and vehicle setting options. It also has a speedometer and a tachometer.
The front console and sides of the car are covered with fabric, moreover, the model also has a decently sized glove box.
Unlike the previous model that was all hard plastic, Toyota Corolla 2020 uses a combination of soft and hard material. The air conditioning function is manual and the control mode is single, not dual.
As for cabin storage, the car has two cup holders in the front and two at the back. In addition, all the doors have side spaces and the back of the front seats also has pockets that can easily hold a water bottle, a laptop, mobile devices, magazines and files.
STORAGE
Toyota Corolla 2020 has a pretty spacious boot with 13.1-cubic-foot space good enough to hold two big suitcases and two small backpacks.
PERFORMANCE
Variants or Trims
GLI XLI
Engine Capacity 1.6-Iitre four-cylinder engine
Power (hp) 121 hp
Torque (Nm) 153 Nm
Transmission CVT
Fuel type Petrol
GLI XLI XLI
1.8-Iitre four-cylinder engine
2.0-litre four-cylinder engine
121 hp 168 hp
142 Nm
200 Nm
CVT
CVT
Hybrid Petrol
FUEL EFFICIENCY
Toyota Corolla is known for its fuel efficiency and excellent performance – the 2020 Toyota Corolla is no different. The fuel tank capacity for all variants is 50 litres. Let's look at the fuel efficiency of all its variants:
Toyota Corolla 2020 GLI 1.6L I4 Engine has a fuel capacity of 17.7 L/100 KM
Toyota Corolla 2020 XLI 1.6L I4 Engine has a fuel capacity of 18.2 L/100 KM
Toyota Corolla 2020 XLI 2.0L I4 Engine has a fuel capacity of 19.8 L/100 KM
Toyota Corolla 2020 GLI and XLI Hybrid versions with a 1.8L I4 Engine has a fuel capacity of 27.6 L/100 KM
SAFETY FEATURES
With Toyota safety comes first. For the 2020 Corolla, active safety features help protect the passengers and drivers from injuries and harm, offering complete peace of mind while driving. Toyota Corolla 2020 earned a five-star rating from the NHTSA.
Standard safety features include:
Seat belts
Front Airbags (for driver and passenger)
Anti-Lock Braking System
Anti-theft system with immobilizer
Electronic Brake Force Distribution
Electronic stability control
Hill Assist
Parking Assist Sensor in the Rear
Parking Assist Camera in the Rear
ISOFix child restraint system
Tyre pressure warning system
TECH & CONNECTIVITY
Toyota Corolla 2020 comes standard with a 7-inch touch screen, a USB port, a port for the aux wire, Bluetooth, voice recognition, Apple Car Play and a built-in Wi-Fi hot spot. However, you will not get Android Auto features.
All controls are on the screen sitting high on the dashboard, you can also find physical buttons at the side of the screen for volume control and other shortcut options. There are physical knobs for audio volume and the radio tuning flank the screen as well.
Then, right under the screen, you will find easy-to-reach knobs for climate controls. The base model has six speakers.
The infotainment system of Toyota Corolla 2020 is user-friendly. All variants above the base level come standard with an 8-inch screen and upgraded Entune app functionality. Other optional features that can be added to any model include HD Radio, satellite radio, navigation, a 7-inch digital driver information display, wireless device charging, and a nine-speaker premium stereo.
OUR VERDICT
With sophisticated interior features, a strong and stylish exterior, powerful engines and hybrid versions, Toyota Corolla 2020 is an ideal car for a family of five. Apart from being reasonable, the car is fuel-efficient, safe and uses a number of advanced tech and connectivity features.
If you're looking for a Corolla but can't afford it, you can find a collection of used Toyota Corolla 2020 cars in the UAE. These vehicles don't compromise on quality and wouldn't even break your bank.
FAQs ABOUT TOYOTA COROLLA 2020
Who is the official dealer of Toyota Corolla in the UAE?
Al-Futtaim Motors are the exclusive dealers of Toyota Corolla cars in the UAE.
How many people can sit in a Toyota Corolla 2020?
Five passengers can sit in the 2020 Toyota Corolla. Two in the front and three at the back.
What is the price of the Toyota Corolla 2020 Hybrid in the UAE?
The price for the 2020 Toyota Corolla GLI HEV is AED 95,900 and the price for XLI HEV is AED 83,900.
How to connect Bluetooth to the 2020 Toyota Corolla?
Turn on the Bluetooth in your phone, go to the Bluetooth option on the Toyota in-dash display appearing on the infotainment screen, select the app button, select your phone and click on yes to pair the phone.
Stay tuned to the First Cars Blog to read more car reviews in the region.